Archives for the day of:
October 11, 2012
it seem the collision look hard till Junsu fall like that
JYJ3
[youtube.com/watch?v=C286583bDEs&feature=plcp]
[youtube.com/watch?v=PNvOdMNmBkg&feature=plcp]
[youtube.com/watch?v=7NifgiHjtmk&feature=plcp]
[youtube.com/watch?v=Ce5j6fDx2wA&feature=plcp]
[youtube.com/watch?v=myQA7cA2CCo&feature=plcp]
[youtube.com/watch?v=Yg3VvsE7PEg&feature=plcp]
[youtube.com/watch?v=-DM5wFLqOj4&feature=plcp]
[youtube.com/watch?v=Z6lVIkcV8Q0&feature=plcp]
[youtube.com/watch?v=v6ZMOC87Cxc&feature=plcp]
Credits: onhisside+ 0109thekahee + Noi37440 + waccotic  + ellaxia + JungColleen + rivericecool +  woohj1119
Shared by : JYJ3
JYJ3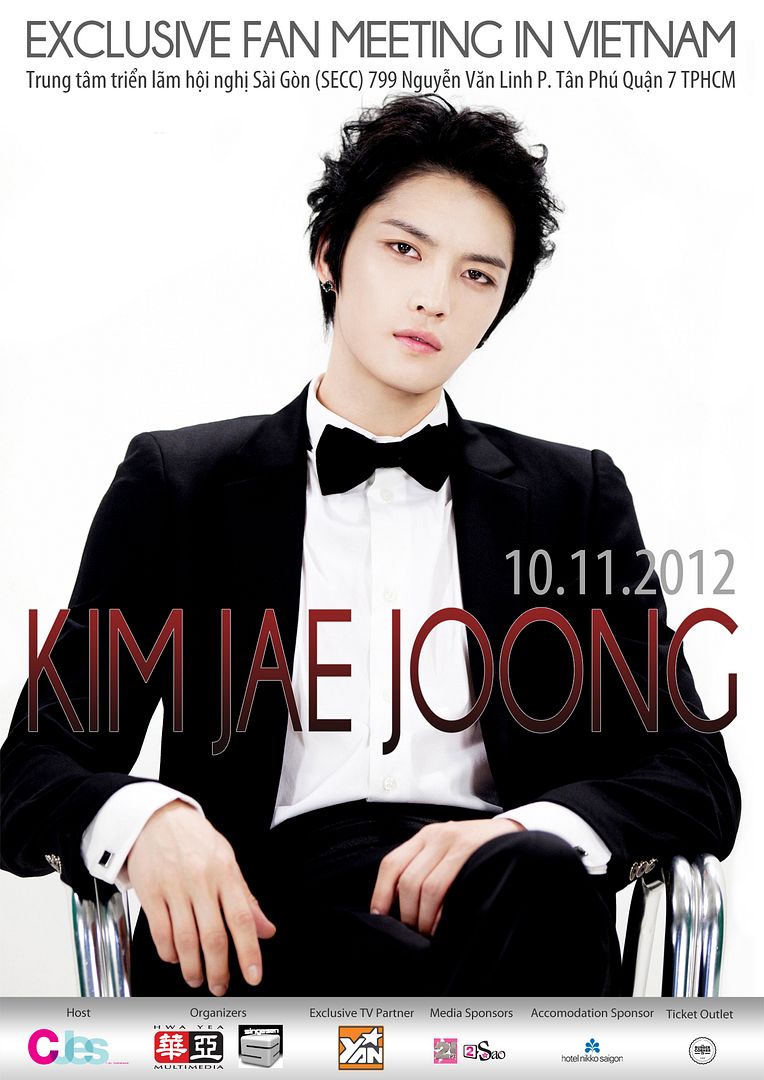 Ticket sales will be opened on sale at 10am, Sunday (October 14th, 2012)
Tickets Outlet at The Burger Corner – 43 Nguyen Hue Street, Ben Nghe Ward, District 1, Ho Chi Minh City, Vietnam.
Oversea fans will be able to purchase their tickets via Ticketcharge at http://www.ticketcharge.com.my/
For any queries, please email us at

info.ticketjj@gmail.com

or via Hotline +84 908 913 164 (For Vietnamese residents only).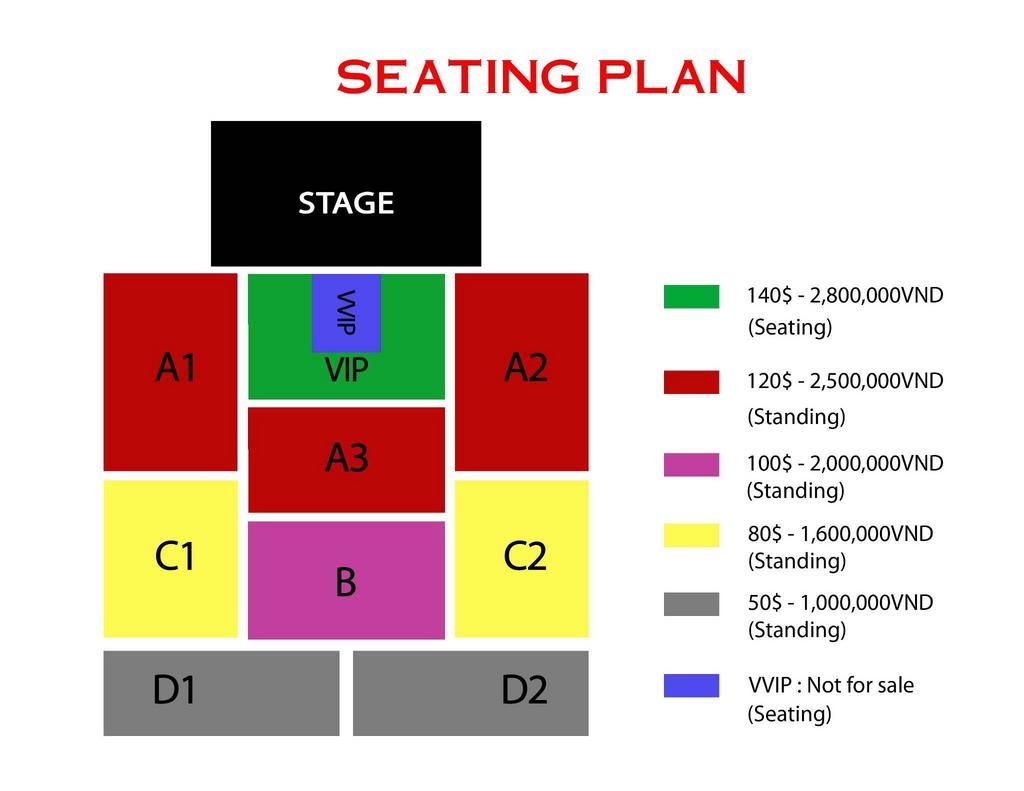 +++Update+++
C-Jes's confirmation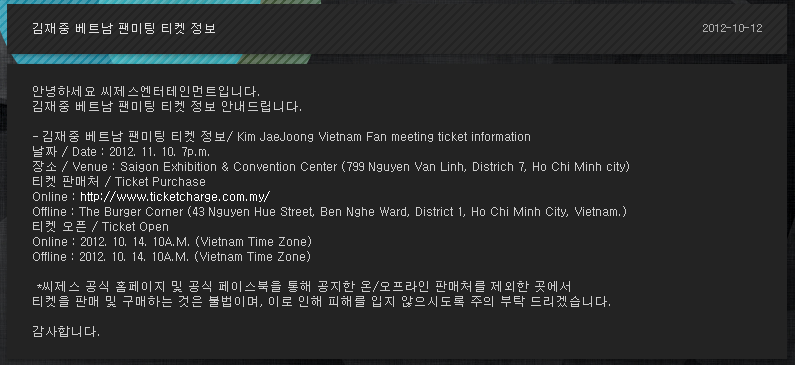 Source: JaeJoongVietnam (Twitter, Facebook), C-Jes
Shared by: JYJ3
Check our previous posts here
since i like cappucino and mocha, it is makes me wanna try it….i wanna go there >_<
cozy place to hang out……Jae-ah you really became a CEO now. The design look nice….. 😀
from now on, Coffe Cojjee gonna fill up by JYJ fans from around the world kekekeke
JYJ3
Note: More Information shared previously here
Coffee Cojjee Address: 94-9 Cheongdam-dong, Gangnam-gu, Seoul. 
Phone number: 02-518-0126
Coffee Cojjee is located in the same building as The Red Carpet, this is the salon where JYJ visit often.
"Why Jaejoong is bright to choose the place for a coffee shop is because in Korea, hair shop customers are usually served drinks while they are having their hair done, as expected, according to a Korean fan who visited there, Coffee Cojjee was busy delivering drinks to the hair shop that is in the same building. haha." (Cr. @126×204)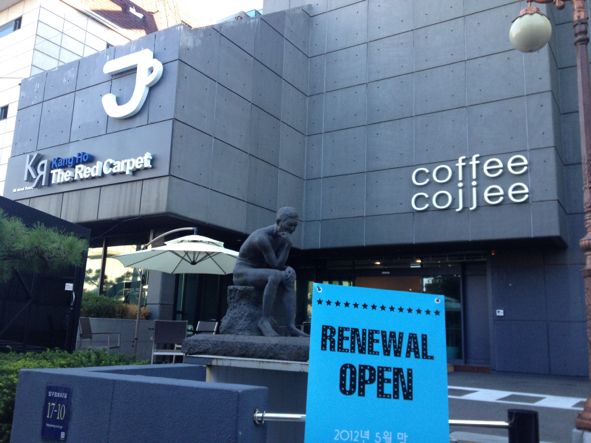 View original post 19 more words
JYJ performs for 4,000 fans at the Teatro Caupolican in Santiago, Chile, on March 9. Provided by C-JeS Entertainment
Entertainment agencies usually aren't established to salvage other agencies' "dropouts," especially those considered "rebels" by their former companies. But that is exactly how C-JeS Entertainment got started in December 2009.
And three-member boy band JYJ is glad it did.
"When I met the boys, I liked them as human beings," says CEO Back Chang-ju.
He then told the three band members that because of their rift with their former agency, they were to "start again."
"I told them that they should have a mindset of starting from the very bottom, like a newbie, and they should never start over thinking they could start from where they were in terms of popularity," Back says.
Back's plan was to rebuild the band's fan base from scratch, while at the same time taking JYJ in a new direction by marketing the members as individual performers, too.
Back recalls when he first met Kim Jae-joong, Park Yu-chun and Kim Jun-su as "the worst time for JYJ."
In mid-2009, the three TVXQ members who formed JYJ filed a lawsuit against their agency, SM Entertainment, arguing that their 13-year contract, the structure of their exclusive contracts and their profit distribution were "unilaterally disadvantageous."
A blessing in disguise
Although the court affirmed their right to independently engage in entertainment activities and granted JYJ an injunction suspending their contract with SM Entertainment in 2009, JYJ lost the support of their professional networks and lacked the management experience to stand on their own.
Then they met Back, a veteran of the entertainment industry, and C-JeS Entertainment was born.
With a new home established, the group set out to tackle its first task: releasing a debut album in English, the first K-pop group to do so.
Since then, JYJ has been in the "Guinness Book of World Records" for having the largest fan club.
The group has collaborated with the likes of Kanye West and Rodney "Darkchild" Jerkins.
And Back's initial strategy has worked to perfection, with the three members having as much success as individuals as when they are together as JYJ.
Rather than merely dabbling in acting when they have the time, the boys have worked hard to establish themselves as credible performers in a variety of genres.
Kim Jae-joong has the largest number of fans among all K-pop singers. This year alone, he has gone to China, Japan and Turkey, drawing thousands of people anxious to catch a glimpse of a third of the Hallyu act.
Just before his movie "Jackal is Coming" is released, Kim, voted the sexiest man alive by his fans in South America, will squeeze in another Asia fan meet tour by the end of next month.
Meanwhile, Park Yu-chun has made a successful transition from singer to actor. Having made his debut in the drama "Sung Kyun Kwan Scandal" (2010), this year he turned in an award-winning performance in "Rooftop Prince," taking on the roles of two characters – a Joseon Dynasty prince and a modern businessman. As a result, he was honored by the Paeksang Arts Awards.
The third member of the group, Kim Jun-su, starred in the musicals "Mozart" (2011) and "Elizabeth," and released a solo album – "Tarantellegra" – in May.
Their limited professional network in Korea was the main reason for joining forces with Warner Music in the United States, an unlikely and fortuitous move in 2010.
"It was a blessing in disguise, really," says Back.
About that time, YouTube really took off according to the agency, and through the interactive medium, the album was a huge hit with K-pop fans worldwide.
In Korea, more than 450,000 copies of the album were ordered before its release. And
in the United States, Billboard ranked it as the fifth-most-anticipated album of the year.
Music heavyweights West and Jerkins promoted the band by saying the collaboration was "the most meaningful result among our collaboration works with Asian artists."
As JYJ worked to broaden its base beyond the borders of Korea, it met with similar success in other regions. It became the first Korean band to draw a total of 210,000 people on a world tour when it performed in in 15 cities in Europe, and South and North America last year.
"Lots of K-pop artists and agencies are afraid to venture into new areas because you really have to prove your credibility to the local organizers, which can be costly," Back says.
But it wasn't long before the group knew that the gamble would pay off. "When the boys landed in Peru, it was insane," says Monica Lee, public relations manager of C-JeS. More than 3,000 fans were at the airport to greet them, with an additional 1,000 outside the band's hotel.
From left: Kim Jae-joong in MBC39s "Dr. Jin"; Park Yu-chun in SBS39s "Rooftop Prince"
Building credibility
As JYJ looked to regain its footing as a K-pop group, the goal – as endorsed by the CEO – was to build a credible brand name, which was neither inexpensive nor easy.
"With all the bad press behind them, we worked toward creating an authentic image," says Back.
When the band's gig in the United States was canceled because of visa problems, the agency offered full refunds and then held a free concert later.
"It cost 1.5 billion won [$1.3 million], but to prove to the fans that the band took its fan base seriously, we decided to do it," says Back.
"Most importantly, we didn't want to lose credibility as artists in the U.S."
While most agencies might not react that way, the decision by C-JeS goes back to Back's mantra that the group is in it for the long term. American promoters and industry insiders took note.
The bold move won more fans for JYJ and paved the way for JYJ to tap into the U.S. network.
"There was this talk among the cast and crew that JYJ were professionals." No doubt this gesture and resulting props came in handy when Kim recorded his solo album and filmed the music video in Hollywood this year.
As pioneers in creating and distributing content, C-JeS maintains tight control over the band's reputation by working with its attorney, Sejong, to monitor images of the band so that no pictures can be used without consent.
And because of its strict adherence to brand, or image, the band became a marketer's dream.
"In a way, the less the group appears on TV, the more companies want to feature them in commercials," says Lee, who oversees media activity. "Because the band was so hard to catch a glimpse of on TV and in magazines, in some ways it strengthened its credibility to advertisers."
Currently, the band has group and individual contracts to promote cosmetics, pharmaceuticals, video games, duty free shopping and IT products.
Kim Jun-su in musical "Elisabeth"
Becoming "multiplayers"
"I've stressed from the beginning that in changing times, entertainers need to be versatile and try their hand at everything, and have always told the boys to try different things," says Back, who recommended acting for Kim Jae-joong and Park Yu-chun and musicals for Kim Jun-su.
"It's really not enough to make DVDs from concerts anymore," explains Back.
He emphasizes that in the fluid environment of K-pop, C-JeS is out to fill the niche of being a "content provider."
The head of the agency says he spends a lot of time conversing with the talent to give them freedom to explore new concepts.
Of the many things they've talked about, one is unearthing future talent, and late last month at the Los Angeles headquarters, an audition took place.
"But where it will go from here, we'll take it steady," says Lee, adding that the agency is not interested in churning out one idol group after another.
However, if C-JeS decides to be more active in manufacturing new bands, it certainly has all the facilities, one of the advantages of establishing a company for just one group.
For now, the agency's roughly 40 employees are proud to call JYJ their main act and source of income. In a way, C-JeS believes it is leading the way as the group becomes a model for an "evolved form of an idol group," moving on to bigger and better things.
Fan service like no other
Along with its exceptional quality control, C-JeS understands the importance of treating fans right.
In June, the band held a fan event titled "Membership Week" at a cost of about 3.7 billion won, according to the agency.
More than 7,000 Japanese were in town for "Membership Week," which drew 22,000 fans from June 28 to July 1.
"We could have used up some of the space for advertising, but we just wanted the fans to experience JYJ and only JYJ," explains Lee, who says that the agency says that it's always brainstorming for a new kind of "fan service."
"In a way, the band is the face of Korea for many fans of K-pop abroad," says Lee. Many people have commented that a lot of South American fans, in particular, say they feel an affinity toward Korea because of JYJ.
As "multiplayers," the band appeals not only to K-pop fans, but also to those of K-dramas, who tend to be older.
Giving back comes naturally for band members, who have consistently supported charities worldwide, often as a way of thanking fans.
From the beginning, Back and the boys decided that the more the band earns, the more they would give.
Kim Jun-su, in particular, established a school in Cambodia late last year.
Credit: Carla Sunwoo, Yim Seung-hye [sharon@joongang.co.kr]
Source: Korea Joongang Daily via JYJ3
Shared by: miaw0730

aww…like always….our junsu look so full with energy and those smile >_<
JYJ3
NEWS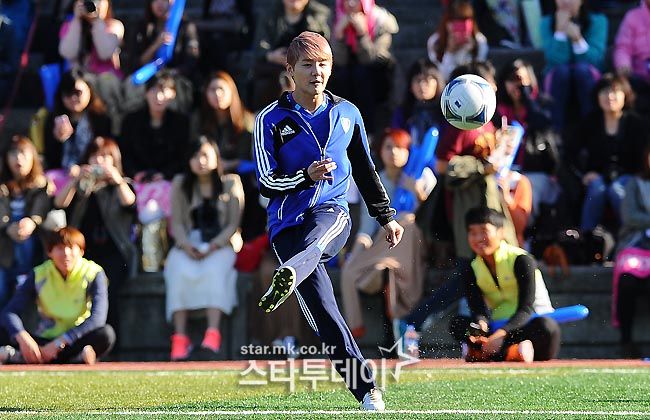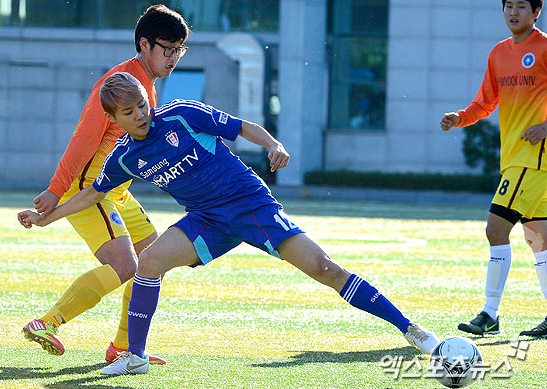 View original post 58 more words
Kim Jae Joong opened up his studio to show how he works.
On October 10, the singer tweeted, "I′ve been writing a song, but I can′t seem to continue because of Gangnam Style. I inserted the melody for Gangnam Style in the guide for fun, but I can′t take it out."
He then added, "I′m working with Flowsik! And now I′ve got 1 million followers!" and attached a photo of himself working in his studio.
Kim Jae Joong has continuously showed off his skills as a singer/songwriter, writing lyrics and songs since his TVXQ (DBSK) days. He wrote the lyrics for the tracks in JYJ′s albums and his OST pieces for his dramas Protect the Boss and Dr. Jin. He also recently presented his fellow member Kim Junsu with his self-composed piece No Gain.
Netizens who saw the photo commented, "Is the work for your film The Jackal is Coming? Or for JYJ′s second album?" "So this is where all those beautiful melodies come from," "I′m looking forward to it" and "So Kim Jae Joong has been taken by Gangnam Style too."
Kim Jae Joong appeared at the red carpet event for the 17th Busan International Film Festival held on October 4 as the lead of The Jackal is Coming.
Photo credit: Kim Jae Joong′s Twitter, JYJ′s Facebook
Source: enewsWorld via JYJ3
Shared by: miaw0730