Archives for the day of:
October 29, 2012
JYJ3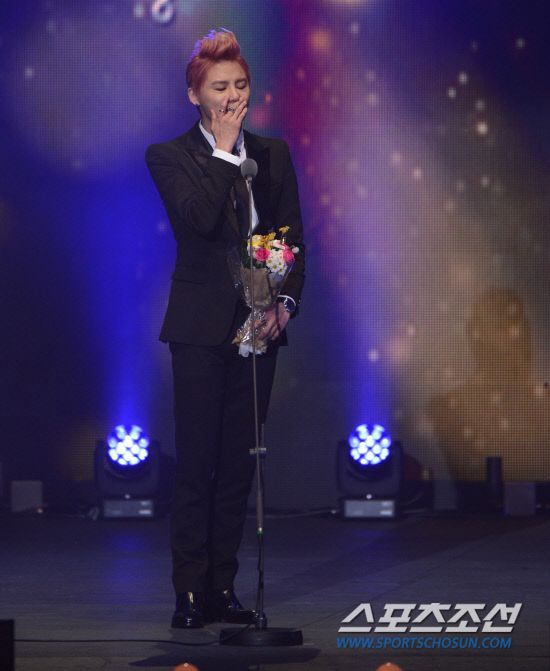 Article: Kim Junsu breaks the idol barrier… wins Best Male Actor at the Musical Daesang
Source: TV Report via Nate
1. [+315, -25] I saw both Elizabeth and Mozzart so I can't help but agree ㅎㅎ Kim Junsu, congratulations~
2. [+310, -26] Congratulations. I hope to see you in another work next year…
3. [+303, -27] I'd like to genuinely congratulate you on winning Best Male Actor at the 18th Korea Musical Daesangs.
–
View original post 272 more words
JYJ3
Saigon teens wearing [traditional Vietnamese] long dresses flashmob dance to welcome Jae Joong
This is the first activity of fans in Saigon preparing to welcome the singer Jae Joong.
More than a month ago, information about singer Jae Joong of group JYJ (South Korea) traveling to Vietnam, through an official statement to organize [a fan meeting] to interact with fans on Nov. 10th. Many young people love the singer everywhere, especially in Saigon has numerous plans began to celebrate the event.
Yesterday afternoon (10/28), at Tao Dan park, District 1 gathered more than 100 young people together to flashmob dance, considering it as one of the first activities for the group to welcome Jae Joong.
View original post 403 more words
Pictures, which were captured from the movie Jackal is Coming, starring JYJ's Kim Jae Joong and Song Ji Hyo, were released on October 29.
In the pictures, Kim is trying hard to survive against a legendary killer named Bong Min Jung (played by Song). He inhales as much as he can to expand his belly and hide his abs. The pictures, in which Kim turned into a funny man, drew a lot of attention.
He also insists that he is not a real top star Choi Hun and sings a song and purposefully makes it sound terrible. He gave various comic performances, which people have never seen before through the small screen.
Kim made people laugh hard at the pictures of himself trying hard to escape from the killer. Even though his hair is burning and his mouth is taped while he was tied up, he does everything he can to walk out alive. His different look in the movie made many people eagerly anticipate the movie.
When Kim attended a press conference for the movie, he said, "I wanted to play the important role and I had a chance to appear on the movie so I wasn't afraid of being goofy."
The movie will be released on November 15.
Source: Xportsnews
Credit: En.Korea
[NEWS] 121029 JYJ's Kim Jae Joong Holds Nothing Back in 'The Jackal is Coming'
He has previously demonstrated the lengths he'll go to for his dramatic acting through such dramas asTime Slip Dr. Jin, but now Kim Jae Joong will look to prove he′s a funny guy.
The production agency behind The Jackal is Coming released new still cuts of the actor in all sorts of embarrassing and humorous scenes as part of his role as Choi Hyun in the upcoming comedy.
In the movie, Choi Hyun is a top star who is kidnapped by the assassin Bong Min Jung (Song Ji Hyo) who has been dispatched to get rid of him.
Having to be tied up for nearly 60 percent of the movie's shooting, Kim Jae Joong found himself in various humorous positions and scenes.
Looking to prove himself as a comedic actor, Kim Jae Joong brings plenty of laughs as Choi Hyun tries to convince Bong Min Jung he's an imposter by pretending to sing in a shrill voice and attempting to disguise his infamous abs into a big, bulging belly.
The pictures also show Kim Jae Joong with his hair singed, tied and fallen on the floor and more, piquing fans and viewers′ interests all the more for his comic turn.
Regarding his role, Kim Jae Joong shared, "I wanted to act in a big-effort role and since I was given the opportunity to be a part of such a great production, I had no fears about ruining my image," showing the singer/actor held nothing back for his role.
The Jackal is Coming premieres in theaters on November 15.
Photo Credit: Nomad Film
Credit: Enewsworld
'Code Name Jackal' releases 'humiliating' still cuts of Jaejoong
'Code Name Jackal' has released 'humiliating' still cuts of JYJ's Jaejoong.
In the movie, Jaejoong put himself in numerous awkward situations, pretending to be tone deaf by making his voice scratchy or hiding his six pack by taking a deep breath and flexing his stomach outward.
He was tied up for more than 60% of the time during filming because of his character, but managed to make the entire set laugh anyway with his comedic acting.
Jaejoong said, "I wanted to try a character that wasn't light at all. I tried my best during filming, so I wasn't scared at all on doing the humiliating scenes."
Check out the photos below! 'Code Name Jackal' will be in theaters on November 15th KST.
JYJ3

[TRANS] The 18th Musical Awards Best Actor Award… I have received my dream award today. Through musicals, I could stand on the stage again. Through musicals, I could sing again.. Through musicals, I could participate in a good event like this, and through musicals, I received awards that I thought I could never receive again.

[TRANS] To such a musical that I am grateful for..I will work very very hard to become a greater actor that can pay his dues. Until now, I have been a musical actor for 3 years.. During this time, the many staff members..actors.. who have been with me; I believe that I received this award because of all those people.

View original post 202 more words
somehow i wanna laugh because his cuteness but in the same times my tears can't stop for keep flying down…..u really always makes us proud Junsu-ah
JYJ3
View original post 15 more words
November Broadcast – Request
Over the next few months, JYJ members will be holding events in different countries. Help us create a media blitz, to coincide with their arrival in these countries. All fans have to do is 'copy, paste and send' the messages below to the various entertainment shows, for each country.
==================Task Begins Here==================
Jaejoong's Asian Tour Fan-Meet in Jakarta:
1-Copy message 1, go to the provided link(s), paste and send.
2-Copy message 2, go to the provided link(s), paste and send.
Message 1:
Harap membawa Jaejoong of JYJ untuk program anda silahkan
*http://www.youtube.com/watch?v=c-PeCEHLFUg
Message 2:
Please bring Kim Jaejoong of JYJ to your Program
*http://www.youtube.com/watch?v=c-PeCEHLFUg
LINK(S):
Dahsyat
Kick Andy
Show Imah
JKT48
ID3NTIK
Silet
93.2 MD Radio Jakarta
Junsu's Concert in Germany:
1-Copy message 1, go to the provided link(s), paste and send.
2-Copy message 2, go to the provided link(s), paste and send.
Message 1:
Bitte bringen Sie Kim JUNSU "XIA of JYJ" Ihr Programm wenden Sie sich bitte.
*http://www.youtube.com/watch?v=3FtXsUS2v6I
*http://www.youtube.com/watch?v=KEo6AdSTVfI
Message 2:
Please bring Kim Junsu "XIA of JYJ" to your Program
*http://www.youtube.com/watch?v=3FtXsUS2v6I
*http://www.youtube.com/watch?v=KEo6AdSTVfI
LINK(S)
Wetten Dass
TV Total
MTV Germany
==================Task Ends Here==================
If you know the Twitter/Facebook/E-mail/contact info of any show in the countries JYJ members will be visiting, please fill out the form at: www.standupforjyj.com/suggest-shows/
If you would like to help us translate the project tasks to different languages, please contact us at:www.standupforjyj.com/help-wanted/
Thank you,
~SU4JYJ Team~